Space Art
From 1959 until 1970 my family lived in Merritt Island, Florida. As Merritt Island is where the Kennedy Space Center is located and just across the Banana River from Cape Canaveral, I personally witnessed the beginnings of the U.S. space effort while living there. My father, sister and one uncle worked at the space center and while a university student, I held jobs there during the Apollo program in the summers of 1967 and 1968.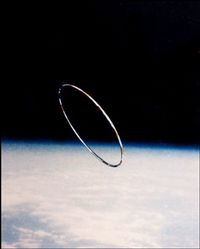 O.U.R.S.
Orbiting Unification Ring Satellite

OUR-Space Peace Sculpture, 1990
Drawing on this early experience, beginning in the mid-1980's I initiated a number of "art-in-space" projects. The early projects, such as the "O.U.R.S. - Orbiting Unification Ring Satellite" and the "OUR-Space Peace Sculpture", were developed extensively and resulted in agreements signed with the former Soviet Union and the construction of full size model of an inflatable space sculpture (OUR-SPS) by the Russian industrial firm NPO Energia in 1990.
Cosmic Dancer Sculpture
on the Mir Space Station (1993)
On May 22, 1993, the Cosmic Dancer sculpture was the first of my artworks to be launched into outer space. Sent to the Russian Mir space station with the purpose to investigate the properties of sculpture in weightlessness, the Cosmic Dancer sculpture was the first three-dimensional artwork purposely designed and officially integrated into a human habitat beyond Earth. The artwork was never returned to me and may have been aboard Mir when it was de-orbited in 2001.


Ars ad Astra
The 1st Art Exhibition in Earth Orbit
Mir Space Station (1995)
In September 1995, in a cooperation with the European Space Agency (ESA), I organized a second art-in-space project called "Ars ad Astra: The 1st Art Exhibition in Earth Orbit" - a collection of original artworks from 20 international artists which was flown to the Mir space station as a part of ESA's EUROMIR'95 mission.
I have been active in the promotion of a cultural dimension to humankind's space activities working with the International Academy of Astronautics (IAA) and the International Association of Astronomical Artists (IAAA) of which I am a member. Also,I have a long collaboration with Leonardo - The Journal of the International Society of Art Science and Technology and it's French organization Olats.
For more detailed information on my space art activities please visit my website: ars astronautica