About my Art
Background
Early in my art career, I looked to science for a contemporary description of reality. I became interested and fascinated by particle physics and the minute structures of the microcosmos. I learned that all form is transitory and the entire cosmos is engaged in a perpetual dance of matter and energy. Applying this insight to my immediate environment I became aware that the entire material world that we call "reality" is both interdependent and interconnected.
Based on this insight into the nature of reality, in the 1970's I began to develop a painting technique that used points and dabs of color as a visual metaphor for the components of the sub-atomic universe - the microcosmos. Into fields fields of color points I integrated calligraphic lines, symbols and geometric shapes to create a visual representation of the dynamic cosmos. Over the years I applied this "pointillistic" painting technique to a variety of artistic expressions that included both abstract and eventually hyper-realistic works as well as three-dimensional sculptural works.
In the mid-eighties I began to integrate the concept of the macrocosms into my art which led to a series of "art-in-space" projects that were designed to be realized in the environment of outer space. Two of my space art projects were realized in Earth orbit on the Mir space station. The Cosmic Dancer sculpture in 1993 and "ars ad Astra" in 1995.
About My Painting
Using the scientific information described in the above text as a "point of departure" I developed a unique pointillistic painting technique which served both my abstract and my figurative explorations.
Below are some examples: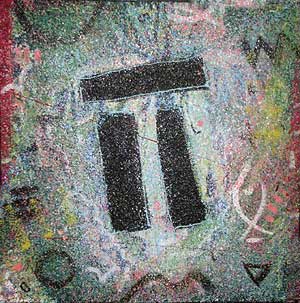 Signs and Symbols Series
Acrylic on Canvas, 70 x 70 cm

The Signs and Symbols Series were expressionistic paintings with layers of translucent fields of color merged together in a primal unstable state of flux that is punctuated with momentary markers of understanding symbolically represented by signs, symbols, numbers and characters of various cultures.
Voyager Series
Acrylic on Canvas, 120 x 150 cm
The Voyager Series depicted multi-dimensional universes of color and geometric shape. Having no specific top or bottom, these two-dimensional shaped canvases created three-dimensional illusions which changed perspective when hung in different positions.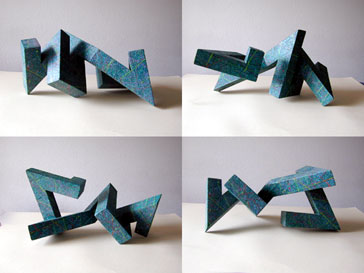 Reclining Dancer - 1996
Acrylic on Wood, 25 x 28 x 57 cm
This artistic exploration led to a series of painted three-dimensional works such as the one below. Like to Voyager paintings this sculpture may be placed in a number of different positions.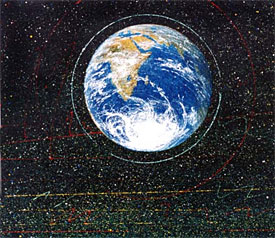 Earth Energies Series - 1995
Acrylic on Canvas, 80 x 70 cm
In addition to the abstract work I then later developed an art of the macrocosmos in series of paintings about our home planet Earth seen from the perspective of space.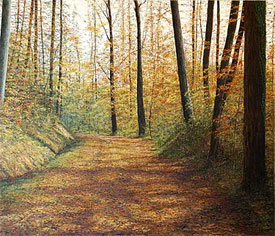 Herbst, 2006
Acrylic on Linen, 120 x 140 cm

Rheinfall, 2005
Acrylic on Linen, 90 x 120 cm
In the beginning of the 1990's I began applying my pointillistic painting technique to recognizable images from my immediate surroundings with the emphasis that all form is in a state of transition and interaction with the universe. I became challenged by the complexity of nature that I was experiencing and this required my approach to painting to become more controlled. The result is a series of hyper-realistic works in the Nature Painting Series. Most of these works are scenes of the Swiss countryside - forests, rivers, pathways and meadows.
Since 2004, I have been dedicated to further developing these paintings about nature.