Arthur Woods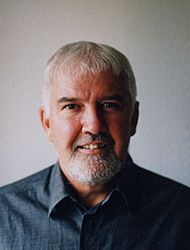 Biographical Information
I was born in Tahlequah, Oklahoma, USA in 1948. In 1959 my family moved to Merritt Island, Florida where I lived until 1970. As Merritt Island is where the Kennedy Space Center is located and just across from Cape Canaveral, I personally witnessed the beginnings of the U.S. space effort. Members of my family worked at the space center and while a university student, I held jobs at the space center during the Apollo program in the summers of 1967 and 1968.
I studied psychology, art and literature at Mercer University in Macon, Georgia. After graduation in 1970 and completing U.S. military service in 1972, I began my art career in California before moving to Switzerland in 1974 where I now live and work. I am married to Heidi and have two children, Louis and Alexander.

The early personal experience with space exploration was a powerful motivation for me to maintain an active interest in the latest scientific and technological developments associated with space development and to eventually integrate these experiences into my art. Europe provided a deep cultural context for my later artistic development.
| | |
| --- | --- |
| Personal Data | |
| 1948 | Born in Tahlequah, Oklahoma, USA |
| 1966 - 1970 | Mercer University, Macon, Georgia, USA – Bachelor of Arts Degree |
| 1973-1975 | Lived and worked in Lausanne and Lutry, Switzerland |
| 1974 | Married to Heidi Müller. 2 sons: Louis Aldous (1978), Alex Marcel (1981) |
| 1975 - 1979 | Lived and worked in in Zürich, Switzerland |
| 1979-1980 | Lived and worked in in Monterey, Massachusetts, USA |
| 1981-2005 | Lived and worked in in Embrach, Switzerland |
| since1994 | Swiss citizenship (Dual citizen US & CH) |
| since 2004 | arthur woods galerie, Stein am Rhein, Switzerland |
| since 2005 | Lives and works in in Stein am Rhein, Switzerland |